This is a minimally invasive procedure typically performed in the comfort of the office to gently open blocked sinuses and offers long-term relief from the problems associated with chronic sinusitis. The small balloon gently opens and reshapes the sinus drainage pathways and restores normal sinus drainage, offering long-term relief from the problems associated with sinusitis. The procedure offers a quick recovery in a comfortable office setting under local anesthesia and does not require nasal packing. Multiple studies show patients experience less facial pain, improved sleep, less use of antibiotics, fever visits to the doctor and a greater ability to perform day-to-day activities at home and work.
Balloon vs. Traditional Sinus Surgery

Local Anesthesia vs. General Anesthesia
1.7 days vs. 5.0 days in Average Days to Return to Normal Activity
1 day to 2.8 days in Average Days Prescription Pain Medicine Needed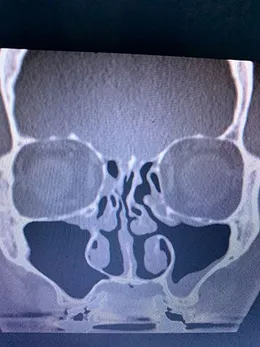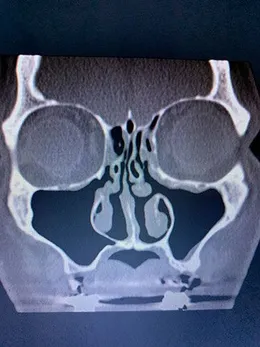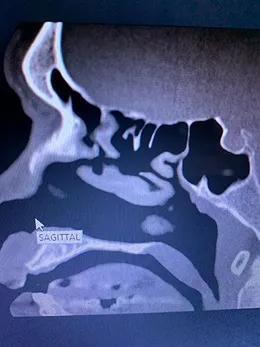 These images are CT scans of a patient taken before and after in office balloon sinuplasty. He previously had a sinus surgery from a different surgeon but still noted a chronic right sided frontal headache that lasted for years with nasal congestion and decreased smell. After a 1 hour in office procedure, his right sided frontal headache completely resolved, his sense of smell improved significantly and he noticed markedly reduced nasal congestion. These images show significant improvement of bilateral maxillary sinus and right frontal sinus inflammation and fluid.

"

Before I got the balloon Sinuplasty performed, I was getting a sinus infection almost every other month. For years my allergies kept me exhausted and fatigued. During the procedure I was extremely comfortable, and felt minimal pressure.

I was very surprised to find that by the same night I was not in any pain, and the next day I was back on my feet and working with no pain. Since this procedure I have had one sinus infection and it has almost been a full year.

During allergy season I do not suffer from constant fatigue and exhaustion, and overall the weather rarely has an effect on the symptoms I used to get from my allergies. This procedure has made a huge impact on my daily life and has allowed me to be more active! KY

"

KY